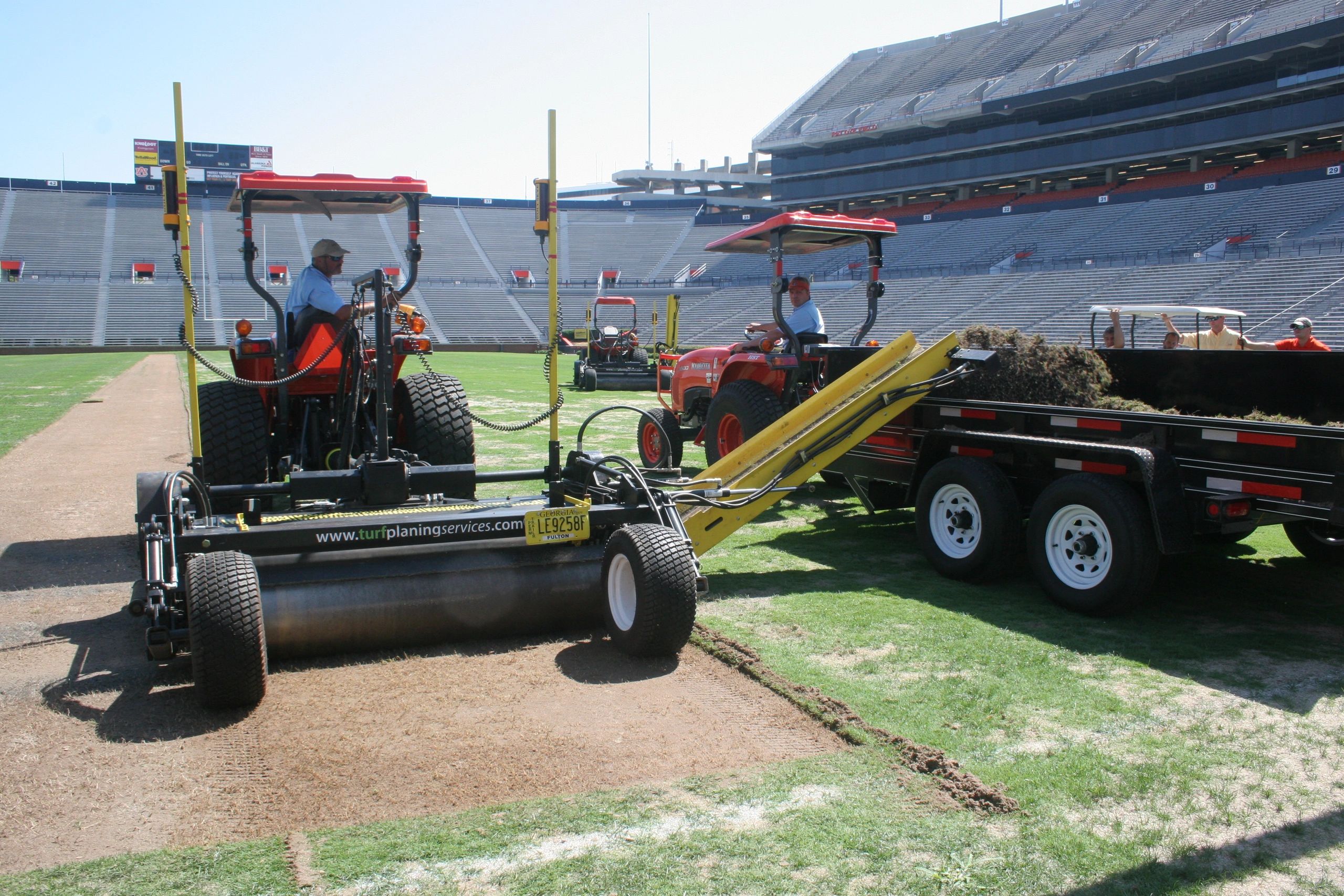 Football and Soccer are two of the most popular sports today, and with that popularity comes the fact that most fields are over used. This over use causes fields to lose there proper grade (shape) and develop drainage issues. In the past before Turfplaning, there have typically been two (2) ways to address these issues:
1) Sand Topdressing - Topdressing a field with sand has its benefits, but actually does very little to level a field. The sand is spread evenly with a specialized machine, which means if you are adding 1" of sand, it is being added to the low spots and high spots, doing nothing to level your field.
2) Total field renovation - This process is the most expensive, but before Turfplaning, it was the only method to truly renovate a field to like new condition. This process involves several steps to complete:
Removal of existing turf, tilling of existing soil, rolling, laser grading, rolling again, install and root in new sod. Depending upon the time of year, this process can take from several weeks to several months to complete. Even after completion, the field will still have areas that are "off grade" by up to 1", because the newly installed turf is not cut at a consistent thickness, and the field will also "settle" after heavy watering to root in the sod. Typical costs for this method are $60,000.00 to $90,000.00 depending upon conditions.
Turfplaning™ is a much better solution for renovating existing fields for several reasons:
1) Cost - The typical cost to Laser Turfplane a football field back to its original grade is between 8K and 15K, depending upon field conditions.
2) Accuracy - Laser Turfplaning is accurate to +/- 1/4 inch, without the field settlement associated with traditional methods.
3) Field Recovery -
The Turfplaning process only takes 2-3 days to complete!
Typical grow in time on a field Turfplaned up to 2" deep is 3-4 weeks when following our reccomended grow in procedure.
4) "Green Process" - Turfplaning™ is truly an "Environmentaly Friendly Process", as the spoils removed while Turfplaning are viable sprigs that can be used to grass other fields in need.